AnyOption was founded in 2008 and is regarded by many as one of the most professional binary brokers in existence. According to the AnyOption website the company is owned by a group of "reputable individuals" with many years' experience of many types of trading. US traders are not allowed with this broker.

AnyOption Review
[thrive_tabs][thrive_tab headline='REVIEW' no='1/3′]
AnyOption is based in Cyprus and, in common with many binary options sites, is unregulated. AnyOption welcomes traders of most nationalities, excluding those from the United States.
Complaints
A search for complaints about the site uncovers a variety of negative comments, most of which are from customers who lost money trading with them, including some who claim that even when their trades finished 'in the money' their winnings were never credited to their account. On the other hand, the vast majority of those who comment on AnyOption are highly satisfied with the service they have received.
Platform
The site uses its own proprietary platform, which has become the template for many of the newer trading platforms such as SpotOption. The platform is entirely web based, so there is nothing that needs to be downloaded. Trading can be done on mobile phones with free apps for the iPhone and Android operating systems, but at present AnyOption does not offer a virtual or demo account. The trading platform is very easy to use – the site's watchword would appear to be 'simplicity'.
Trades
AnyOption offers an impressive range of trade types and assets to cater for all trading tastes. Trading types supported include:
• Standard binary Up/Down, where the trader bets on whether an asset will be above or below its current value when the trade expires.
• One Touch, where the trader bets that an asset's value will touch a fixed value before the expiry period. This type of trade is available at weekends when the markets are closed.
• Options +, whereby an option can be bought with a fixed expiry time, but sold back to AnyOption before the expiry time is reached, whether the trade is 'in the money' or not.
• Roll Forward, a feature that allows a trader to extend the expiry period of a trade if it is losing.
A rather restricted range of expiry times is available with AnyOption, as follows:
• End of the hour
• End of the day
• End of the week
• End of the month
Unlike most binary trading sites there is no facility for a 60 second or 5 minute trade.
A large range of tradable assets is available, over 140 in total, including: currency pairs (such as Euro/Dollar), indices (for example, the German DAX or the FTSE 100), stocks (such as Apple or IBM) and commodities such as gold or oil.
Payouts
Payouts for binary trades are high if the trade succeeds, or if it ends 'in the money'. In this case the payout will be in the range 60 to 400 percent, depending on the type of trade involved. The payout for the basic Up/Down trade is usually around 60 to 70 percent, depending on the asset traded and the expiry period. Returns for successful One Touch trades are the highest at anything up to 400 percent, but these trades also carry the highest risk factor.
Payback and Risk Management
Should a standard Up/Down trade finish 'out of the money' – that is, if it fails – then a payback of 15 percent of the stake is given, thus reducing the risk of a losing trade. Another risk management facility is the Option + trade, where a trade can be sold back to AnyOption at any time up to its expiry, though it should be noted that AnyOption is entitled to buy back the trade at any price it deems fit! No payback is given on out of the money One Touch trades, and with these the option to sell the trade back does not exist. The final risk management aspect of AnyOption is the ability referred to earlier to extend a trade's expiry to give it more time to succeed.
Minimum/Maximum Trade Amounts
There do not appear to be any restrictions on the amounts that can be traded in AnyOptions; although some reviewers do claim a minimum trade of $25 there is no mention of this in the company's website.
Deposits and Withdrawals
Trading accounts may be opened in US Dollars, Euros or Pounds Sterling. The minimum deposit value is at present $100, EUR100 or £100, and there is no maximum deposit. AnyOption provides a large range of payment methods depending on the country of residence of the trader, including credit and debit cards and wire transfer. Profits can be withdrawn without charge once a month, and if additional withdrawals are required, they can be arranged for a fee, currently $30. There is no limit as to the amount that can be withdrawn, and the withdrawal process can take up to 7 business days to complete.
Education and Research
AnyOption uses Reuters news feeds to provide research information to users, and also uses Reuters to obtain up to date asset prices. There does not appear to be a great deal of educational material on the site, apart from a rather restrictive FAQ page.
Customer Service
AnyOption provides customer service through the media of email and telephone, and several languages are supported. Especially useful is the 'call me back' facility on the AnyOption website – if details are left AnyOption will make contact to discuss any support issues.
Recommended for …..
Although the AnyOption platform is very simple to use, making it very useful for beginners, it is also used by experienced, professional traders. AnyOption is particularly recommended for Up/Down, One Touch and Option + trades and for its Roll Forward facility.
Awards
AnyOption does not appear to have won any awards.
[/thrive_tab][thrive_tab headline='IMAGES' no='2/3′]
Profit Line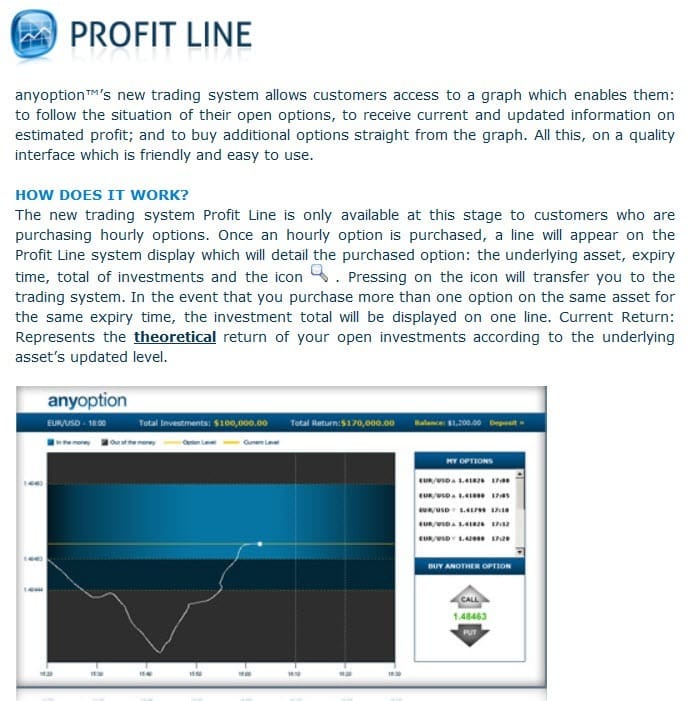 Roll Forward
Trade Steps
Trading Trends
Trading Trends
[/thrive_tab][/thrive_tabs]