PRIVATE TRADERS CLUB REVIEW
iOption has gone out of business. Read our other Binary Broker Reviews.

iOption Review
iOption was founded in 2008 when binary options trading was first sanctioned by the Securities and Exchange Commission, and since then it has developed into a highly regarded binary options trading website. iOption is owned by iOption Consulting Services Ltd, based in Cyprus and, in common with many binary options sites, is unregulated. The site welcomes traders of most nationalities, but will not accept traders from the United States. A search for complaints about the site uncovers very few negative comments – the only real complaint has to do with false advertising.
Platform
The site uses the SpotOption platform, which is used by many binary trading websites. This platform is entirely web based, so there is nothing that needs to be downloaded. There is as yet no app for trading on mobile phones, and at present iOptions does not offer a virtual or demo account.
Trades
iOptions offers an impressive range of trade types and assets to cater to all trading tastes. Trading types supported include:
Up/Down, where the trader bets on whether an asset will be above or below its current value when the trade expires;
One Touch, where the trader bets that an asset's value will touch a fixed value before the expiry period;
Barrier or Double No Touch, which is the opposite to One Touch, where trader bets that an asset's value will not go above or below a specified value before the expiry period;
Options Builder, a tool that allows experienced traders to construct their own positions;
Roll Forward, a feature that allows a trader to extend the expiry period of a trade if it is losing.
Expiry Times
A wide range of expiry periods is offered, ranging from 60 seconds to one month, with virtually all periods covered.
60 Seconds
5 Minutes
15 Minutes
30 Minutes
1 Hour
1 Day
1Month
Assets
There is a huge range of assets available, some 80 in total, including:
Currency pairs (such as Euro/Dollar)
Indices (for example, the German DAX or the FTSE 100)
Stocks (such as Apple or IBM)
Commodities such as gold or oil
Payouts
Payouts for binary trades are high if the trade succeeds, or if it ends 'in the money'. In this case the payout will be in the range 70 to 400 percent, depending on the type of trade involved. The payout for the basic Up/Down trade is usually around 70 to 85 percent, depending on the expiry period.
Paybacks/Risk Management
Should a trade finish 'out of the money' – that is, if it fails – then a payback of 0 to 15 percent of the stake is given, again depending on the type of trade. This payback contributes greatly to the risk management aspect of the site, in that the stake is never completely at risk – even with a losing trade the trader should retain up to 15 percent of it. The option is also given to buy back a losing trade, at a cost, of course. The final risk management aspect of iOptions is the ability referred to earlier to extend a trade's expiry to give it more time to succeed.
Minimum/Maximum Trade Amounts
The minimum stake that can be traded is only $5, and the maximum is $5000, so there is a trading level to suit everyone. Before any trading can take place, some cash must be deposited into the trader's account. Accounts may be opened in US Dollars or Euros. The minimum deposit value is at present $200 or EUR200, and the maximum (by credit card) is $5000, or EUR5000.
Deposits/Withdrawals
There are three levels of account available with iOption: Starter (up to $500 initial deposit), Trader (up to $2000) and VIP. Each account type has an associated welcome bonus. The main difference between the account types would appear to be the level of support and one to one training given, with the VIP naturally providing the most. Profits can be withdrawn without charge once a month for members using the Starter account, and twice a month for Trader and VIP account holders. If additional withdrawals are required, they can be arranged for a fee, currently $30. There is no limit as to the amount that can be withdrawn, and the withdrawal process can take up to 7 business days to complete.
Education and Research
iOptions uses Reuters news feeds to provide research information to users, and also uses Reuters to obtain up to date asset prices. Trading alerts can be set up within the site, but only for VIP members. iOptions provides plenty of educational material, including training videos, an extensive knowledge base, a forum known as the iOption Academy and an ebook review page.
Customer Service
iOptions provides customer service through the media of email, telephone and live chat. Telephone support is provided between 07:00 and 22:00 hours GMT in a number of countries, and several languages are supported. Live chat is also available during the same hours as telephone support.
Recommended for
iOptions is used by beginners and by experienced, professional traders. The user platform is very simple and uncluttered, making it ideal for the novice trader, but the sheer quantity of underlying assets that are available also make the site invaluable for the professional. iOptions is particularly recommended for Up/Down, One Touch and Option Builder trades, for its Roll Forward facility and for 60 second options.
Awards
iOptions has won one particular award, the FxEmpire Most Reliable award for 2011.
iOption Video 1
iOption Video 2
iOption Video 3
Economic Calendar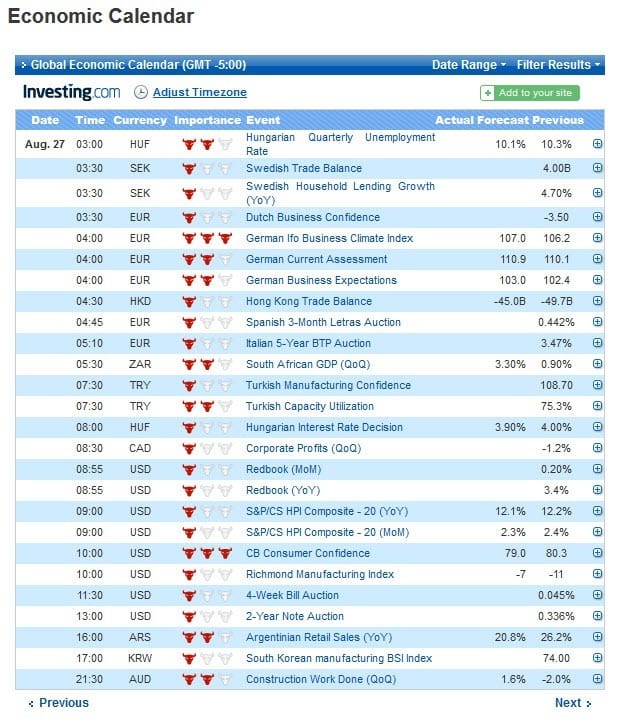 Heat Signatures
Heat Signatures
Rapid Fires