BINARY OPTIONS TRADING SIGNALS REVIEW
Binary Options Trading Signals is different from other binary courses in that instead of sending trading signals to the trader, the user is able to watch a professional trader, in action, effectively looking over his shoulder so that you can copy and learn from a professional binary options trader in real time.

Binary Options Trading Signals
[thrive_tabs][thrive_tab headline='REVIEW' no='1/3′]
Binary Options Trading Signals provides a simpler, less demanding method of trading both Forex and stock indices, allowing the trader to control his losses and know when he places a trade exactly how much he stands to win or lose. The problem, as with any trading system, is knowing when to trade and which way to trade. Many programs have been developed to try to give the amateur trader signals which can give him this information. These services generally use traditional methods to transmit these signals to the trader, such as email, text messaging or Skype.
This means that the main problem with traditional methods of communicating trading signals, that the end user might not receive the signal in time for him to act upon it, should no longer present any difficulty. In addition, the user can hear Franco talking about the market, and his reasons for placing trades, thus allowing a much more effective learning process to take place. Binary Options Trading Signals offers a two-hour trading session every day, from 9.30 to 11.30 EST, and promises multiple daily signals, on average 3 to 5 per day. Franco tends to concentrate on Forex markets, in particular the Euro/US Dollar pair, and the main contracts used are the 60 second and 15 minute.
Of course, following trading signals is only worthwhile if the signals themselves actually make money, and a system such as Binary Options Trading Signals would appear to be a prime candidate for a scam! However, there is no evidence at this moment that the system is anything but genuine, and indeed reviews suggest that the signals do in fact show a reasonable profit of between 10 and 30 per cent. Unlike some binary trading programs there is no trial to try out the system before buying, so it is a case of paying for the system then hoping that it pays its way. While the Binary Options Trading Signals program is relatively expensive at $97 per two weeks, reviews do suggest that high profits are possible, assuming that the user can be in a position to trade at the relevant times as stated above – and, as with all products sold through Clickbank, there is the promise of a 60 day money back guarantee.
Sadly, the Binary Options Trading Signals sales page contains a video that purports to represent a trading session, a video that looks as though it has been speeded up to the point where it resembles nothing more than a jumble of flickering images. This can only serve to confuse the uninitiated, but the rest of the page explains quite clearly the method used.
To summarize, Binary Options Trading Signals does appear to offer a real profit making binary trading system, which can work for the beginner as well as for the more experienced trader. Unlike most trading signal systems, this one would appear to offer genuine training as well as profits, so after a while the user should be able to trade alone outside the two hour window provided by the program, thus increasing his profits even more.
[/thrive_tab][thrive_tab headline='VIDEO' no='2/3′]
Binary Options Trading Signals Video 1
Binary Options Trading Signals Video 2
[/thrive_tab][thrive_tab headline='IMAGES' no='3/3′]
Binary Options Trading Signals Platform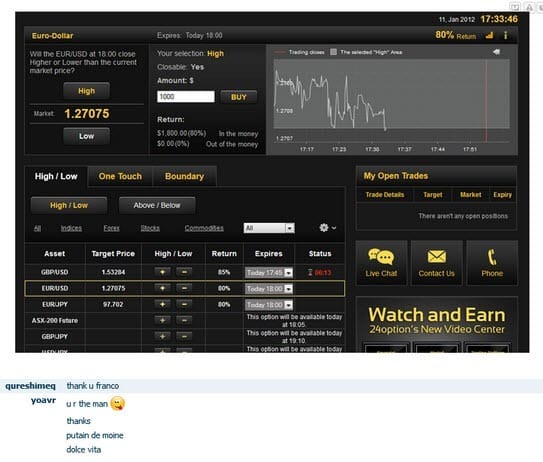 [/thrive_tab][/thrive_tabs]