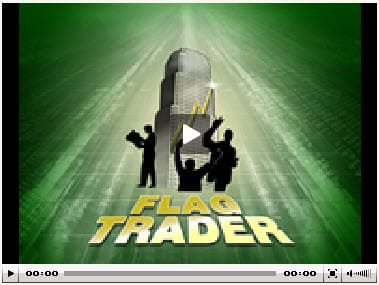 Generally, traders all around the world lose money in their trading due to one or all of the following three reasons: they don't have enough time to give to the markets, they don't know how to identify the prevailing trend, and they don't have confidence to put on a position. If you are struggling with any of these challenges then Flag Trader by Guy Cohen can help you - See more at

Flag Trader Review
[thrive_tabs][thrive_tab headline='REVIEW' no='1/3′]
Although the Flag-Trader system is still a valid and profitable system Guy has combined it with this OVI Indicator and membership and has combined his various products in the OVI-FlagTrader Combo.
If you want to learn more about the Flag-Trader system specifically keep reading…
What is the Flag-Trader System?
Flag Trader, by Guy Cohen, teaches you how to use consolidation or break-out patterns, in particular the flag pattern, to consistently pull profits out of the market. This is a trend following system that keeps you out of sideways market. Unlike other break-out strategies that try to predict the direction of the break-out Guy's system allows you to wait for the move and then put on your trade early enough for a good fill while minimizing the risk. This is possible because of his proprietary indicators the OVI and his TradeFinder application allowing you to maximize your profits while investing less time.
Course Material
1. Eight CDs detailing the use of Flag Trader System
2. 12 Months Access Flag-Trader Inner Circle
Which includes:
Flag TradeFinder filters daily list of stocks for break-out patterns includes the OVI filter
8 CDs instantly available online
Guy's Seminar: Profit from Flags and Trends DVD
Options Tutorial: Master the basics to trade with options
Options Strategy Guide: 4 options strategies that are ideal for trading flags
Member Alerts and Videos: includes commentary with the TradeFinder
Markets Updates
Glossary
Free Shipping
Unlimited phone and email support
What's actually covered in the 8 CDs?
Discs 1-2: Introduction & Basics
Introduction to the Flag-Trader trading strategy and training on the basics skills needed
Disc 3: Trading Flags in Detail
Detailed training on Flags and how to use them with the OVI
Disc 4: Managing Your Trades
How to enter a trade, manage it for optimal profit taking and minimal risk and how to exit
Disc 5: Psychology, Website & Brokerage
Guy teaches you the proper mind-set and psychology and how to use the TradeFinder Application to find the best set-ups. He also reviews how to select a brokerage or spread-betting firm.
Disc 6-8: Flag-Trades
Trading and learning a new skill is about repetition until you instinctively know what you are looking for and how to execute on the information. Here Guy reviews over 40 examples. You look over his shoulder as he gets the alert and selects his trade.
How much time will I spend on this system?
You can learn the strategy from the CDs in about 8 hrs and then once you have acquired the skill-set you can spend as little as 15-30 mins a day managing and executing trades.
What Markets Are Traded?
Flag Trader system is designed to scan and trade u.S. stocks.
Proprietary Tools
After buying Flag Trader system you get 12 months access to the Inner Circle Membership which includes the TradeFinder app, Flag pattern scanners, and OVI indicator.
What it does?
Scans for Flag patterns and further filters results with OVI indicator to find the best break-out patterns available.
Support Offered
You would get a full year support from Guy Cohen through email and phone.
Testimonials: There are 100s of positive testimonials here are just a small selection
I made gains of 90% in 2 days in UNH, my biggest gain so far.
Sparling from Kent
I would like to thank Flag Trader system. In the last two weeks I have shorted eight stocks and had profits of 18%.
Chris Howard from Manchester
Seen Very Good Returns
"I would just like to thank you again for the Flag trader system, I have been quite selective in my picks lately but have seen very good returns, there hasn't been one occasion that I have made a loss! The best return is around 40% with a couple of others around 25%. The new filters and facility to save is superb."
Chris H
All I Ever Needed
"Up until now I didn't realize how successful a particular strategy could be, this is the moment I found out about Flag-Trader. I have spent thousands of dollars learning when all I ever needed is in the complete set of Flag-Trader. If you are serious about trading I suggest you buy the CDs, it has certainly changed my life."
M. Green
Increased bank account by 60%!
"I tend to look for the easily identifiable patterns and it works for me. I started with a fairly small bank account and have increased it to date by around 60%. Maximum risk per trade is 3% and i hope eventually to get this down to 1% as my pot grows."
S. Richie
Price
Price of Flag Trader is $1997 and includes 12 months access to the Flag-Trader Inner Circle Membership.
Conclusion
Flag Trader is designed to be used by anyone who wants a consistently profitable system that only requires a 10-20 minutes a day to trade. In many ways this system is the culmination of Guy's many years in the markets and leverages his unique insight and proprietary indicators to maximize your profits while minimizing loses.
History has proven that trading with the trend with specific chart patterns yields great returns. Take this fact to the next level with Guy's TrendFinder, OVI and his options strategies and with just 20 minutes per day you can expect consistent profits with life changing results.
Buy it here: Flag Trader
Learn More: Click Here
[/thrive_tab][thrive_tab headline='VIDEO' no='2/3′]
Flag Trader Review Video
Flag Trader Review Video 2
Flag Trader Review Video 3
[/thrive_tab][thrive_tab headline='IMAGES' no='3/3′]
*Disclaimer: The material below is taken from Guy Cohen's Flag Trader ebook.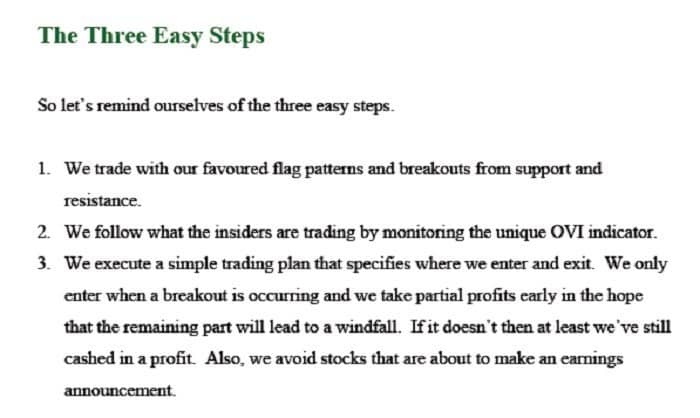 [/thrive_tab][/thrive_tabs]