optionsXpress has become quite popular among retail traders due to their great customer service and wide variety of trading tools that have all been designed to help increase profitability. This broker also offers extensive education for novice options traders, extensive research to help veterans open profitable positions and even broker-assisted trading, all for free.

 OptionsXpress Review
[thrive_tabs][thrive_tab headline='REVIEW' no='1/3′]
 OptionsXpress: An Overview
Opening up an account with OptionsXpress is a quick and easy process but still very secure. You have multiple options when it comes to account types, including individual accounts, joint tenants with rights of survivorship, trusts, corporate and LLC, partnership, custodial account and many more. You also get a $100 bonus for opening a new account.
The OptionsXpress Trading Platform
OptionsXpress offers a very user-friendly trading platform for free. Traders can access the platform either from their desktop or directly via their browser. The broker also offers mobile access for iPads, iPhones, Blackberries and Android based phones as well as non-smart units.
The platform has a great charting feature that offers quotes in real-time thanks to the extremely fast streaming that is powered by Java. The system allows traders to display quotes in seven different patterns, including percentages, bar and candles. Additionally, any tool or indicators can be applied to the charts, including Bollinger bands, Fibonacci, MACD, stochastic and many more. There is also an option to see historical data for the Dow.
Besides the great trading platform, OptionsXpress also offers a wide range of powerful trading tools. The majority are quite easy to use, even for the novice trader. For example, FleXCharts allows traders to customize how they view the market, Chains is an all-in-one screen offering quotes in real-time, intrinsic and time values as well as a complex spread construction.
OptionsXpress: Virtual Trading
To allow new traders to acclimate themselves with the system as well as to learn more about trading options, OptionsXpress offers a fully functional virtual trading system. In other words, traders can open positions with virtual cash and trade in real market conditions. This is an invaluable feature since you need practical experience to trade successfully. There is a limit to how much you can learn solely from theory without applying your knowledge in practice.
You get a starting balance of $25,000, live data and you can also reset your balance if you aren't happy with your progress. It is highly recommended that novice traders stick to virtual trading until they are making a consistent profit before moving on to live trading.
OptionsXpress: Fees
In terms of fees, OptionsXpress is quite competitive but their commissions on stocks and ETFs are a bit higher than average. However, that is understandable considering they offer so much for free and have excellent customer service.
When it comes to options trading, the fee is $12.95 for active traders if trading up to 10 contracts or $14.95 for non-active traders. For over 10 contracts, active traders will pay $1.25 per contract while non-active traders will be charged $1.50. So, if you want to open a position with 5 contracts, for example, it will cost you $12.95 as an active trader. For 50 contracts, you will pay a total of $62.50, while 100 contracts will cost you $125.
The stock trading fee is $8.95. If you want to exercise your options, it will cost you $9.95, while the options assignment fee is $5.
While these fees might seem a little higher than average, you also get a lot in return. For example, you have access to a wide range of tools and educational materials for free. OptionsXpress offers such tools as an options chain/string, a probability calculator, an options screener, a strategy builder and optimizer, a call/put spread scanner and more.
You will also be able to place various types of options trades. For example, you can go with the simple long and short calls and puts, or with collar and vertical spreads. You can take things even further with time and diagonal spreads, strangles, straddles or many other complex strategies such as back-ratio, condors and butterfly.
OptionsXpress doesn't limit traders to a single type of trading, though. With the same account you can also trade ETFs, Futures, mutual funds, penny stocks and bonds. If you want help with your trading, the fee is $8.95.
This broker also prides itself on not having any hidden fees, so you will find there are no annual maintenance fees, inactive account fees, IRA fees or even minimum balance fees. In fact, there is no minimum deposit requirement at all. You can just open up your account and start trading on the virtual platform with no need to deposit funds.
There are a few other fees, but these generally refer to fund transfers, such as a $15 fee for overnight check delivery via Fedex or $40 if you want it delivered on a Saturday.
| | |
| --- | --- |
| Details | Fees |
| Overnight Check Delivery (Domestic) | $15 |
| Overnight Check Delivery (International) | $40 |
| Saturday Delivery | $30 |
| Stop Payments | $15 |
| Bounced Checks | $20 |
| Bounced ACH | $20 |
| Outbound Wire Transfer (Domestic) | $15 |
| Outbound Wire Transfer (International) | $30 |
| Full Outgoing Account Transfers | $60 |
| Physical Stock Certificates | $500 |
| IRA Account Termination | $50 |
| DRS Statement Registration | $50 |
| CBOE Options Regulatory Fee | $0.0105 per contract |
| | |
OptionsXpress: Tools
OptionsXpress is determined to do everything they can to help their customers make a profit, a fact made clear by the number of powerful trading tools they offer as well as the extensive research done on behalf of their traders. Thus, as an OptionsXpress customer, you will have access to such tools as a wide range of calculators, level 1 and 2 quotes, automated trading, charts and graphics, various scanners and screeners to help you more easily identify the right traders, custom watch lists and much more.
OptionsXpress: Education and Customer Service
OptionsXpress offers some great tools, including live and recorded webinars, video training and thousands of articles on options trading. Essentially, even if you are completely new to options trading, if you go through the materials available, you won't have any issues becoming profitable, especially if you take the time to practice your skills on the virtual trading platform.
The customer service from OptionsXpress is also unparalleled as they offer live chat weekdays from 8 AM to 10 PM EDT and 10 AM to 2 PM on the weekends. The phone is also manned during the weekdays from 9AM to 10 PM and you can send in any questions you have via email and they will usually be answered the following morning even if you sent the email in late at night.
OptionsXpress has won several awards, including 5 stars form Smart Money in 2009, 5 stars from Kiplingers in 2011 and 4 stars from Barrons from 2002 to 2012. It's quite understandable, though, considering all the great tools and features this broker offers for both the novice trader and veterans.
[/thrive_tab][thrive_tab headline='VIDEO' no='2/3′]
Optionsxpress Overview
Optionsxpress Tutorial
Optionsxpress Dragon
Optionsxpress Trade & Probabiliy Calculator
Optionsxpress Desktop Platform
Optionsxpress Strategy Scanner
[/thrive_tab][thrive_tab headline='IMAGES' no='3/3′]
Barron's 2012 Best for Options Traders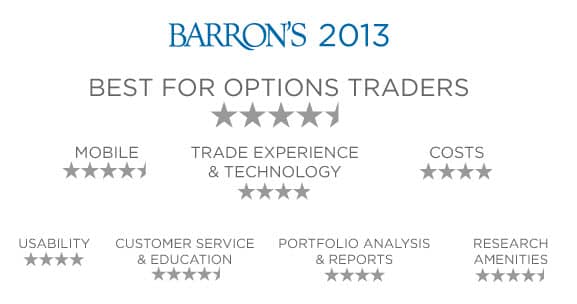 Idea Hub
Streaming Charts
Trade Patterns
Walk Limit
[/thrive_tab][/thrive_tabs]