Options 101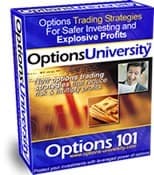 Options 101 by Options University is a good course to start your options trading education. Even though Courtney Smith now owns OU Brett Fogle teaches it so it is an older video. I have it and it covers all the basics to give you a solid foundation. I think its strength is that he provides lots of real-world examples so it's not just theory.
You get to see specific examples as he walks you through how to set up a specific options play. It also comes with a pdf that's 180 pages that provides more in depth information. The table of contents is listed below and as you will see it's quite comprehensive for a beginner course.
The video tutorial is a bit short in my opinion but like I said it does bring some real life examples to what can otherwise feel like a lot of theory. But my recommendation is not to buy it. Why? Read my review on the Advanced Options Course to find out why.
Table of Contents
Introduction
Our Background
Importance of Education and the Individual Investor
Options Basics and Terms
Definitions of Options and Related Terms
I.     Calls & Puts
II.     Expiration Date
III.     Contract & Strike Price
IV.     Option Class & Series
V.     ITM, OTM, ATM options
VI.     Premium & Time Decay
VII.     Intrinsic vs. Extrinsic Value
VIII.     Volatility
Trading Strategies
Directional Trading Strategies & Terms (Calls & Puts)
I.     In the Money, Out of the Money, and At the Money Options
II.     Leverage and Risk
The Covered Call / Buy – Write Strategy
I.     Hedging Stock Trades / Options as Insurance
II.     3 Scenarios & Examples
III.     Income Opportunities
The Covered Put / Sell – Write Strategy
I.     Comparison to The Buy Write / Selling Short
II.     3 Scenarios & Examples
III.     Rolling the Position
The Protective Put Strategy
I.     Portfolio Protection & Risk
II.     Trade Insurance
The Synthetic Put (Protective Call) Strategy
I.     Strategy Defined
II.     3 Scenarios & Examples
III.     "Break Down" Protection
I.     Buying & Selling Options (Option Writing)
II.     Debit or Credit
III.     Profit & Loss Examples
The Stock Replacement Covered Call Strategy
I.     Stock Replacement
II.     Percentage Returns
III.     Proper Use of Option Leverage
Advanced Techniques
Spreads / Straddles / Strangles Introduction
Unusual Options Volume & Other Clues
Appendix
Final Exam
Option Graphs – Quick Reference Guide
Covered Calls – A Case Study
Recommended Reading
Other Resources
Learn more about Options University Options 101 Course here. (Not currently offered)
if you want to earn more about the Advanced Options Course click here.