OptionTiger by Hari Swaminathan is arguably the most complete options training online. Hari offers training that covers the big picture outlook on the markets with Macroeconomics and Global Finance then delves deep in the basic, intermediate, and most advanced options strategies one can learn. His teaching style is easy to understand and he complements this training with his unique Holy Grail strategy and TigerTrades Trading Ideas. With Hari's comprehensive training, his consistent income strategy and TigerTrades Ideas OptionTiger gets my top recommendation.

OptionTiger Review
[thrive_tabs][thrive_tab headline='REVIEW' no='1/3′]
This review will take an in-depth look at the course material and strategies that Hari Swaminathan offers at OptionTiger so that you can make a more informed decision regarding its merits as a site to learn options.
Details about OptionTiger
OptionTiger was founded by a self-taught options expert Hari Swaminathan. He offers some of the most in-depth training on options I have come across as well as an options trading service that is suited to short, intermediate or long-term traders. First is his Holy Grail strategy, which is a monthly income strategy that so far hasn't had any losses. Next are 7 modules consisting of 47 courses, which will catapult you from a novice to an options trading expert. What's great about Hari's training is that you can customize your order by choosing a package of either 5 or 10 courses from these 47 courses. And finally you can choose to purchase his TigerTrading Ideas service which you can read more about below.
When you buy the Holy Grail strategy or the OptionTiger courses the training is presented in:
• Video lessons explaining the details of that course module
• ebooks explaining the strategies
• Webinars by Hari that thoroughly explain the concepts related to options trading
Markets Traded
This course is based on trading US stock options. However, anyone can use this knowledge to trade stock exchanges in different parts of the world.
Course Material
The strategies that you learn depend on the modules that you select. In Hari's words,
"We are building upon the learning from previous modules. First, we have to master individual options positions (Modules II and III), then we moved to Options spreads (Module IV), picked up critical market knowledge in Module V, and finally we tackle the four-legged beasts in this module. These four-legged strategies are used by most advanced Options traders, and you'll recognize why a couple of them may become your favorite too."
Here is a list of the modules you can choose from:
1. Macroeconomics and Global Finance (5 Courses):
This module includes courses on financial markets, global money machine, US stocks, indices, ETFs, US bond market, and smart money.
2. Introduction to Options (7 Courses):
This module teaches about Call and Put options, time decay, implied volatility, option Greeks, the power of options, and structure of option market.
3. Options Foundation Series (7 Courses):
This module teaches the foundational knowledge bullish and bearish options trading, i.e. the buying and selling of Calls and Puts. You learn about the Greeks, probabilities, advanced strategies, optimizations, and adjustments.
4. Options Intermediate Level (7 Courses):
This is an in-depth module on spreads; the simultaneous buying and selling of options. You learn about the bull and bear Call spreads, and the bull and bear Put spreads. Finally you learn about spread adjustments and insight into monthly income strategies.
5. Important Trading Concepts (7 Courses):
In this module you learn technical analysis, using the VIX, analysis of price and volume charts, trading ETF and Indices, risk management, dynamics of option expiry, and option analysis simulation.
6. Advanced Trading Strategies (7 Courses):
This module teaches you about calendars and double calendars, diagonals and butterflies, iron condor, ratio spreads, back ratio spreads, strangles, straddles, trading future markets, and hedging with futures and options.
7. Options mastery series (7 Courses):
This module gives further insight into Guerilla tactics of legging and scaling into positions. You also learn advanced back ratio spreads, advanced iron condors, advanced straddles, twisted calendar, and bond trading.
Holy Grail
The Holy Grail is unique among options strategies. It's Hari's tried and tested monthly income strategy. With a 2 year track record of consist 5-10% monthly returns under any market condition this is a strategy that can change your financial future. The concepts you learn in Holy Grail strategy are part of the above mentioned course material. The only difference is the way that knowledge is applied for generating a consistent monthly income. There is a special 10-course pack that has been designed to teach the concepts relevant to the Holy Grail strategy. This strategy is crash proof, in fact you can make money in a sudden crash, and is effective in up, down or sideways markets. He also teaches an automated version that requires just a couple of after hour adjustments per month for 5-7% return. For the more active trader you can expect 10% returns. Account size is irrelevant. You may find that this is the only strategy you will want to trade.
When you purchase the Holy Grail you also get 3 months of Hari's trading service based on the Holy Grail strategy, that's almost a $400 value.
Holy Grail Features:
3 months of live trade service
Consistent 5-10% monthly return
Works on any account size; large or small
Works in any market condition; bullish, bearish, sideways
Repeat the strategy month after month
version for the active trader or automated version for busy professional
Just 2-3 adjustments/month after market hours
Not just Flash crash proof but will benefit
TigerTrades Trading Ideas
Hari's trading service was started in February of 2013 and as of July 2013 it has produced a profit of $80,000 on a $350,000 trading account; that's a 35% return in 7 months. He offers three types of trades that you can choose from depending on your trading style and schedule.
1. Monthly Income or Monthly Cycle Trade:
Approximately 60% of the trades fall into this category. Hold time is less than a month. Strategies used are long options, debt and credit spreads and some advanced strategies.
2. Weekly Options and Earnings Plays:
These trades are for advanced traders who can monitor their trades and make quick adjustments and often involve higher margin.
3. Medium term Trades:
Hold time is typically 1 to 3 months with low risk and high reward. These trades usually follow some market news and will lock up your margin for a period of time.
Here are some highlights from Week 1 – Feb 2013 Trades
"The first week of the Trading Ideas was exciting and eventful to say the least.
Trade 1 – NFLX Bear Call
This was supposed to be a simple trade when we got the trade entry right. NFLX went down, and the Bear Call was immediately profitable. A Bull Put on the other side seemed safe, and the trade was converted into an Iron Condor and supposed to cruise toward expiry. A-ha..we had some surprises in store, but the trade worked out with a 14% return.
Trade 2 – CMG Iron Condor before earnings.
Gave a 10% buffer zone on either side.
CMG did not move much after earnings. We captured a 12% return the next morning or 80% of the max profit for the trade. Nice.
Trade 3 – AAPL Long Call.
Caught AAPL at a very good point before it made the big move up. Long Call converted to a Diagonal.
Captured $3000 profit, a 60% return on this trade.
Trade 4 – LNKD Iron Condor
Basking in glory from the CMG Iron Condor trade, we entered a similar LNKD trade.
LNKD blew through our Call spread by a mile –
But watch the amazing adjustments and how this trade ended.
Performance for the week – $7000, Return of 1.8% on the absolute portfolio.
Note: Trade Ideas are updated over the weekend. Our customers get real-time notification of all trades."
Pricing
Holy Grail strategy is priced at $4,997
The price for complete course of seven modules is $1,499
The price for 5-course pack is $300, and for 10-course pack is $500
Trading Ideas Monthly Subscription $129/mo
Trading Ideas Annual Subscription $1249/yr
Proprietary Tools/Software
There are no proprietary tools or software with this service.
Support Offered
Support is offered through e-mail.
Testimonials
I have been trading the Holy Grail strategy on my own and also following the 3 month service provided by Option tiger. I have been using the paper account and utilizing the maximum margin of $20,000. In three weeks I have got a return of more than $2,000 on my $25,000 account.
By Steve
Being a seasoned trader I was confident about the Holy Grail trade that started yesterday, in just one day I am getting a return of 6% today. A great start for trading this strategy. Thanks!
By Marilyn
Fantastic first month results on the Holy Grail strategy. This could be the only strategy we need to trade. Looking forward to June results.
George
Truly amazing Options training and loved the smart money analysis.
Shawn
I've taken many courses on trading in Options. I have to say that even compared to Wall Street veterans, Hari's courses are simply the best. His style of teaching is simply unbelievable. He is a born educator. His depth of knowledge on financial markets is very rare.
Marti
Congratulations Hari! You have done one heck of a job. This course widened my view on the concepts behind options trading in a more than remarkable way. In particular, all the greeks analysis deserves an A+ rating.
Oscar
Is there a refund?
You get a 30 day money back guarantee, if you are unsatisfied with the course material or if the claims about the performance of Holy Grail system are not fulfilled.
Current Specials
The actual price of Holy Grail strategy is $6,999, but due to ongoing discount of 30% you can buy it at a price of $4,997.
Conclusion
Option trading is a risky business, but by using the products and services offered by OptionTiger you can remove the majority of the risk and you are left with a business that gives you consistent monthly profits.
Be it the Holy Grail trading strategy or the complete course material of OptionTiger  both are designed for all levels of options traders. The option of 5-pack or 10-pack courses is specially designed for intermediate or advanced traders who have prior knowledge about options trading and want specialized knowledge about specific topics.
[/thrive_tab][thrive_tab headline='VIDEO' no='2/3′]
OptionTiger Holy Grail
OptionTiger Intro to Options
OptionTiger Expert Trader
OptionTiger Think or Swim
OptionTiger Adjustments
OptionTiger Webinar
[/thrive_tab][thrive_tab headline='IMAGES' no='3/3′]
Mastery Package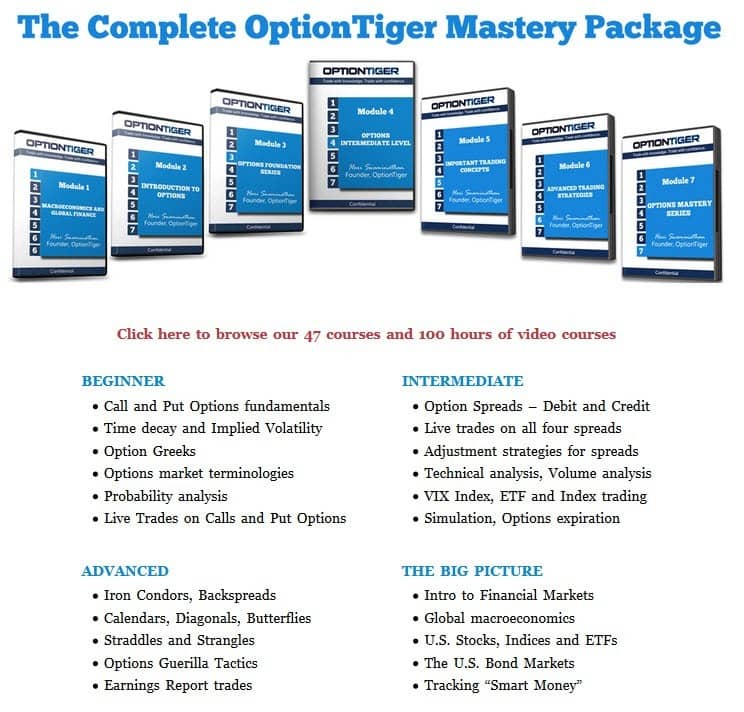 Courses
2013 Returns
Trading Ideas
[/thrive_tab][/thrive_tabs]