Trading Trainer Review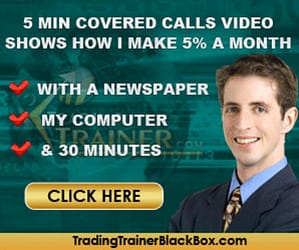 The price tag of the Trading Trainer is quite low, considering all the resources it offers, at $147 as an initial payment followed by a monthly fee of $99. The advantage to this pricing structure is that it allows students to cancel their membership at any time, unlike other programs that demand a high up-front fee and lock you in for a year or more.
Who Is A.J. Brown?
A.J. Brown is a financial expert who has been trading options for over a decade. He has impressed many with his gains and has been interviewed by many notable authorities in the field. A.J. Brown has spent years developing successful trading strategies and has now decided to dedicate his time to helping other people achieve financial independence with options trading.
Trading Trainer Review
The Trading Trainer is more than simply options education because it consists of a tight-knit community of like-minded individuals who have achieved amazing results under the guidance of A.J. Brown. Not only does he teach individual investors everything they need to know about trading options but he also trades with his students, allowing them to see how the theory can be applied to all market conditions.
The Trading Trainer advocates simple trading strategies because using too many indicators and methods is, in fact, counterproductive and can become confusing. Additionally, using too many tools can lead to missing some excellent trades, which is why A.J. Brown feels that the best approach is to master a few proven methods.
The Trading Trainer includes a wide range of resources, which you will gain access to as soon as you sign up. These include a nightly newsletter, which features A.J. Browns notes on the market for the next day, charting and drawing tools, daily stock picks, a latest news feed, online community forums and much more.
For anyone looking to get a feel for A.J. Brown's training style before they sign up, he offers a free audio course that will teach you how to start trading options full-time, how to pick winning trades and limit your losses, how to trade objectively and eliminate emotion and how to make money even if the market is in free fall. This free course will offer you the foundation to start trading options and it will also give you a glimpse of what you can receive once you take the step and sign up for the Trading Trainer academy.
A Trading Trainer Review: The Benefits
Trading options is risky, much like trading any other asset class and the good news is that A.J. Brown advocates a conservative approach for beginners. One of the biggest advantages to this course is the fact that A.J. Brown takes traders from entry to exit and teaches them how to maximize their profits while reducing their risks.
Click Here for Trading Trainer