Daily Market Advantage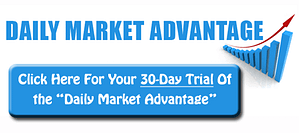 Daily Market Advantage is a daily market newsletter put out by Dave Vallieres of Tradingology.com. Dave has been in the markets for over 40 years. He has traded stocks, forex, futures, and more but his forte is options trading. His analysis covers all the major markets in multiple time frames so this advisory service is suitable for a diversity of trading styles. Whether you are a day trader, a swing trader, making a living trading or learning it as a hobby he provides a commentary on the major indices; Dow, Nasdaq, S&P, ETFs as well as stocks and of course various options plays.
He shares his short and long-term outlooks and offers various strategies to capitalize on his analysis. He has spent decades analyzing the markets and was able to profit on the 2009 March lows as well as the subsequent rally.  All of his commentaries are documented in the archives which you will have access to as a subscriber.
Some of the options strategies that he will utilize are condors, calendars, victory spreads, the greeks to manage your portfolio and he also teaches you various hedging strategies. He uses options
Here's a summary of what you get:
Make profitable trades regardless of the stock market going up, down, sideways
Recommended for any trading style
In-depth technical analysis across all markets
Analysis with his proprietary indictor Marketxfactor
Commentary on Dow, S&P, Nasdaq, VIX, ETFs, individual stocks and more
Specific recommendations when to enter and exit a position
Short and Long term options plays
There are no additional upsells, software to purchase or platform fees and they don't pump and dump stocks.
He offers a one month trial for just $9.95 and it comes with a 60 day refund. With that trial you get access to everything even the archives so you can go back and see how he traded. After that it is $97/month. I learned and still learn a lot from his service and do recommended it.
Learn more about the one month trial to Daily Market Advantage